Your Well-Qualified Midrange Speaker Manufacturer in China
MR AUDIO possesses advanced technology, functional design, and an adept management team. We can be your esteemed partner to skyrocket your business in no time!
Our company has superior production facilities.

Technologically advanced testing equipment. 

Provide a comprehensive range of midrange speakers.

Optimum features midrange speakers.
Your Proficient Midrange Speaker Manufacturer
The enterprise establishes a stable and good rapport with our raw materials supplier. The unprocessed material includes a voice coil, magnet steel, paper cone, basin frame, and essential midrange speaker components. Notably, our enterprise is the leading manufacturer of midrange speakers in China.
Annually, produce 400,000 midrange speakers. MR AUDIO guarantees a copious midrange speaker supply.  We can suffice your demands at your convenience. Drop us an email for your inquiries and additional necessary information.
MR Audio

Your Top Midrange Speaker Manufacturer
8″ Mid-Range
Nominal Impedance: 4 Ohms
Rated AES Power Handling (RMS): 40 Watts
Frequency Range: 79-6500HZ
Sensitivity (1W/1m): 90 dB
Voice Coil Diameter: 1.5 in/38.6mm
8″ Mid-Range
Nominal Impedance: 4 Ohms
Rated AES Power Handling (RMS):100 Watts
Frequency Range: 108-8000HZ
Sensitivity (1W/1m): 93 dB
Voice Coil Diameter: 1.5 in/38.6 mm
8″ Mid-Range
Nominal Impedance: 4 Ohms
Rated AES Power Handling (RMS): 120 Watts
Frequency Range: 88-8000HZ
Sensitivity (1W/1m): 94 dB
Voice Coil Diameter: 2.0 in/50.5mm
6.5″ Mid-Range
Nominal Impedance: 4 Ohms
Rated AES Power Handling (RMS): 30 Watts
Frequency Range: 176-8000HZ
Sensitivity (1W/1m): 90 dB
Voice Coil Diameter: 1.5 in/38.6mm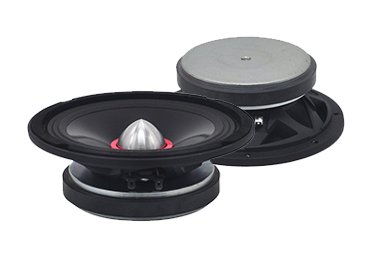 6.5″ Mid-Range
Nominal Impedance: 4 Ohms
Rated AES Power Handling (RMS): 80 Watts
Frequency Range: 148-10kHZ
Sensitivity (1W/1m): 92 dB
Voice Coil Diameter: 1.5 in/38.6mm
6.5″ Mid-Range
Nominal Impedance: 8 Ohms
Rated AES Power Handling (RMS): 30 Watts
Frequency Range: 126-12000HZ
Sensitivity (1W/1m): 90 dB
Voice Coil Diameter: 1.5 in/38.6mm
Why Choose MR AUDIO Midrange Speaker
Through more than 20 years of steadfast Original Equipment Manufacturing System (OEM) experience, MR AUDIO has become a prominent audio enterprise in China. We put importance on innovatory analysis and development expertise. 
Further, it has inaugurated standard production and advanced inspecting devices to render the most dependable midrange speaker, such as the Italian CLIO online testing system, AP audio analyzer, and LMS electro-acoustic analysis system.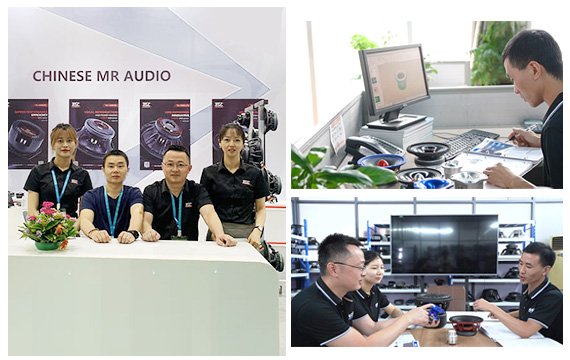 What are the functions of the midrange speaker?
The midrange speaker can realize the frequency connection between the bass speaker and the tweeter when playing music. Since the intermediate frequency occupies the dominant range of the entire sound range, and the human ear is more sensitive to the intermediate frequency than other frequency bands, the sound quality requirements of the midrange speaker are higher.  As a midrange speaker, the main performance requirements are the sound pressure frequency characteristic curve, low distortion, good directivity, etc.
What are the advantages of the existence of the phase cone in the midrange?
The phase cone can effectively improve the frequency response characteristics, prevent standing waves and crossover distortion, make the off-axis frequency response diffusion characteristics and the axial frequency response diffusion characteristics smoother, and avoid the off-axis frequency response peaks and valleys that often appear in multimedia speakers. Phenomenon. In other words, the presence of the phase cone can effectively improve the phase performance of the speaker

Why Choose MR Audio
Workshop
Exhibition Display
Certificate Display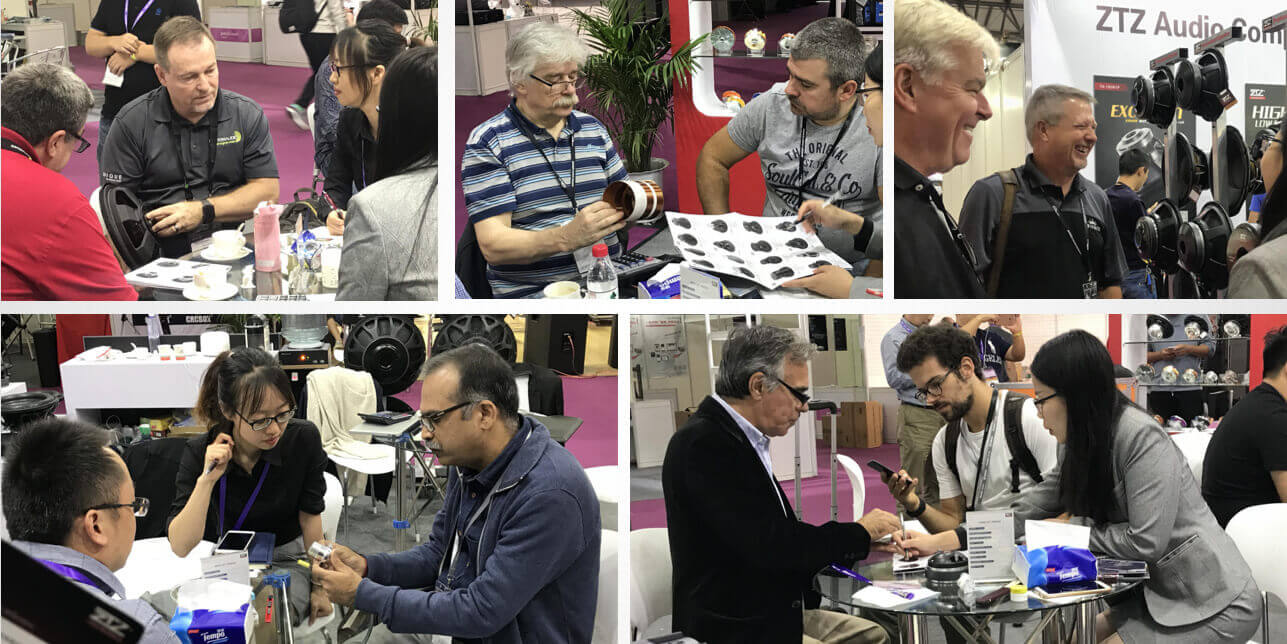 Recommend Product MR Audio Can Support You
MR AUDIO -Your Renowned Midrange Speaker Supplier
MR AUDIO is the leading midrange speaker supplier and manufacturer in China. The skilled worker can invent and produce all sorts of auto audio parts according to the customers′ specifications, providing top-quality outputs. We are your complete guide and assistance.
MR AUDIO employs a rigid midrange speaker control system.  Interestingly, we ship our products to any part of the world. Our enterprise is the pioneer and most technoscientific car audio peripheral product manufacturer. We always intend to satisfy you with the qualities of excellent products.
As your reliable supplier, we are committed to sourcing influential midrange speakers with outstanding sound. MR AUDIO is well-trained, assisting customers worldwide. We are a manufacturer with experts and full of vitality management team.
Trusting our solid business partnerships indeed helps achieve your desired business improvements. We organize every level of processing orders-from customizing to delivery. MR AUDIO is responsible for maintaining high-quality midrange speaker supplies. 
Utilizing MR AUDIO midrange speaker has a lot of advantages on specific applications, which includes: 
Outstanding sound dispersion

Improve tweeters and woofers capacity

Forms mid-range frequency spectrum

Helps circulate beaming issue

Experience maximum fidelity and less distortion
MR AUDIO is the perfect manufacturer you can always count on whenever you look for durable midrange speakers. We are proudly offering our cost-effective yet high-quality midrange speakers. All our speakers' models have undergone strict quality inspections. 
Here at our company, you will experience no hassle processing orders. We always make sure of on-time delivery. MR AUDIO loves to grant your requested specifications for a compatible fitting midrange speaker. 
We are your qualified manufacturer who owns the best-conditioned midrange speaker products. MR AUDIO conducts defective product analysis before offering our midrange speaker products to our customers. Please let us know your selected models, and we will do quick customization.
Various midrange speaker models have their features, including:
Fiberglass cone

Sturdy construction

Balanced sound

Cast aluminum frame

Water-resistant
Using a midrange speaker from MR AUDIO guarantees excellent sound. You will surely benefit from its high durability and lasting features. The midrange speaker plays middle frequencies about 350Hz to 5kHz. They are commonly ideal for three-way multi-driver speaker systems.
MR AUDIO appoints a friendly service team to entertain your inquiries. You are free to call or message us right here for more orders. Our sales staff are approachable enough to accommodate your demands. We serve  24/7 working hours.
Expect quick response and gratifying answers to your questions, especially information about midrange speakers. MR AUDIO assures a well-designed midrange speaker that fulfills your desires. Choose your choice on our wide selections above.
So if you desire to have a productive business, choose MR AUDIO as a constant supplier. Our vast production of speakers assures continuous and instant stocks for your business. Please send us application details, and we will responsibly do the rest of the processes.
Contact us here, right now!