Your Ideal Ceiling Speaker Manufacturer
MR Audio is the best ceiling speaker manufacturer and supplier in China. Our company mainly produce high-end speakers, subwoofers, amplifier, etc. For your ceiling speaker needs, we can customize them for you to meet your requirements.
18-year experience of OEM
Customized ceiling speaker options
State-of-art manufacturing equipment
Good quality and competitive quotation
Your Ceiling Speaker Customization Expert
Our goal is to satisfy our customers with our ceiling speaker products. MR AUDIO always stick to following standard production processes, with strict product control systems, production process inspection, and more for guaranteed quality of products.
From material sourcing, ceiling speaker production, packaging to distribution, you can trust the whole process offered by MR AUDIO. We can guarantee high-end ceiling speakers at affordable prices.
MR Audio

Your Exclusive Ceiling Speaker Manufacturer
Size: 3/3.5/4 Inch Full Range
Voice coin: 0.75/0.75/1.0 Inch
Magnet: 3.4/6.4/8 Oz
Frequency: 80hz-18k/60hz-20k/60hz-20khz
Sensitivity: 90 dB
Size: 4/5.25/6.5/8 Inch Full Range
Voice coin: 1.0 Inch
Magnet: 5.4/8/10/20 Oz
Frequency: 90/80/60/40hz-20khz
Sensitivity: 89/89/90/91 dB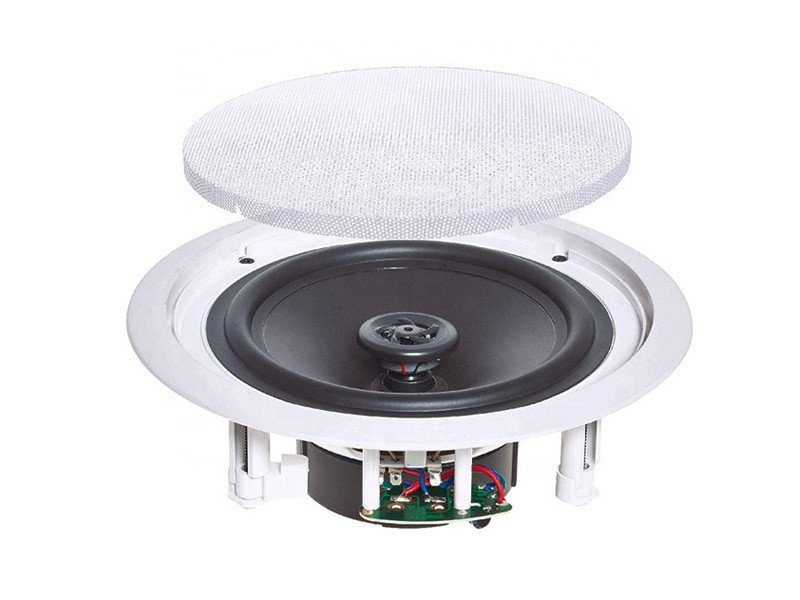 Size: 4/5.25/6.5/8 Inch
Voice coin: 1.0 Inch
Magnet: 5.4/8/10/20 Oz
Frequency: 90/80/60/40hz-20khz
Sensitivity: 89/89/90/91 dB
Size: 5.25/6.5/8/10 Inch
Voice coin: 1.0 Inch
Magnet: 8/10/20/30 Oz
Frequency: 80/60/40/30hz-20khz
Max power: 100/150/200/250 watts
Size: 5.25/6.5/8/10 Inch
Voice coin: 1.0 Inch
Magnet: 8/10/20/30 Oz
Frequency: 80/60/40/30hz-20khz
Max power: 100/150/200/250 watts
Size: 5.25/6.5/8 Inch
Max Power: 80/120/180 Watts
Magnet: 8/10/20 Oz
Frequency: 80/60/40hz-20khz
Sensitivity: 88/89/89dB
STEREO SPEAKERS
These are the most common type of ceiling speakers that most people use. Stereo speakers must be used as a pair, with one speaker providing the left sound channel and the other providing the right. If you can, get a pair of stereo speakers instead of a single stereo.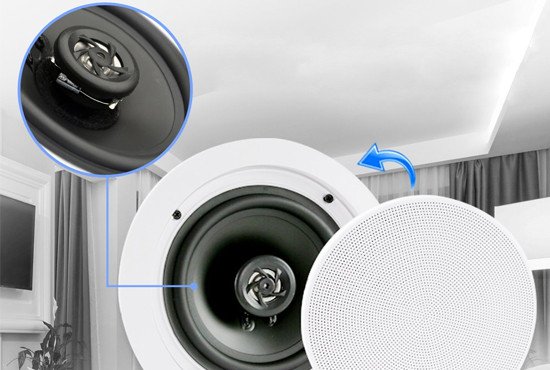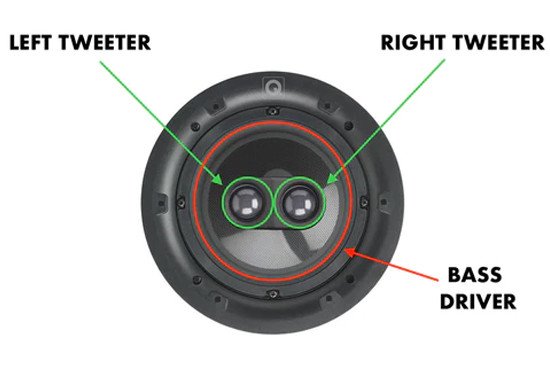 SINGLE-STEREO SPEAKERS
Sometimes there isn't enough room in the ceiling for a pair of ceiling speakers to be put up. This happens a lot in bathrooms and other small rooms. To solve this problem, a single stereo speaker was created. It has a left and right channel but only takes up one space. This makes it possible to play music in more rooms. Single-stereo speakers have both the left and right speaker drivers, so they can be used separately. In the middle of the picture on the right, you can see the two internal drivers.
MR Audio - Your Reliable Ceiling Speaker Manufacturer in China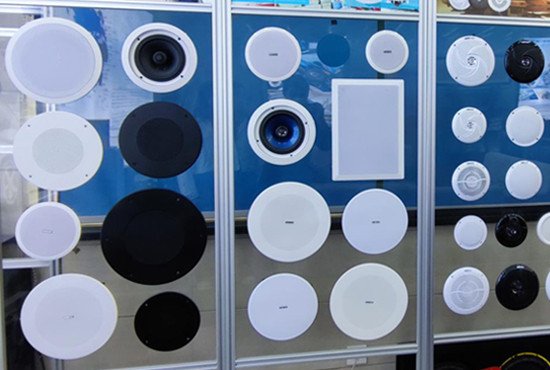 Are you looking for a top-quality ceiling speaker for your business? MR Audio is the right place to come. We have been producing a series of ceiling speakers for over 18 years. To meet your satisfaction, MR Audio serves high-end ceiling speakers with full certifications.
MR Audio offers all kinds of ceiling speakers to meet your application requirements. We produce over 3000 ceiling speakers options. Our product can be customized as per your request. Please send us your drawing, layout, and design. We have a professional R&D team to handle the process.
MR Audio can handle well the ceiling speaker fabrication from material sourcing, design, fabrication, packaging to exporting.
MR Audio is your reliable ceiling speaker manufacturer and supplier in China. We can be your best partner to skyrocket your business.
Why Choose MR Audio
Workshop
Exhibition Display
Certificate Display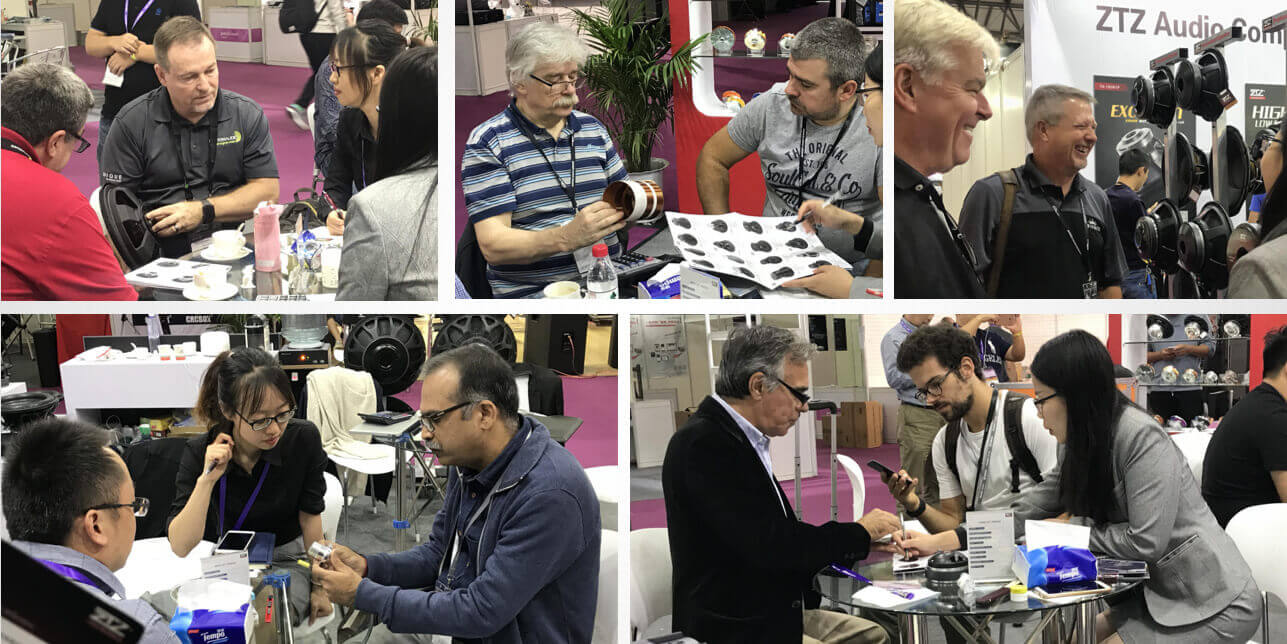 More Recommended Products from MR Audio
SOME POINTS TO CONSIDER ABOUT CEILING SPEAKER PLACEMENT
HOW MUCH SPACE DO YOU HAVE?
Most ceiling speakers have a diameter of 6 to 6.5 inches or 8 inches. As a general rule, we recommend leaving at least 2 meters of space between a left and right stereo speaker. If this isn't possible in a small room, you might want to think about putting a single stereo speaker in the middle. If you have more than two stereo speakers in a room, try to keep at least 2 meters and no more than 5 meters between each pair.
HOW DEEP IS YOUR CEILING?
Think about how much room is behind your ceiling. If you don't have a lot of space, you might need a "super slim" version. Just keep in mind that the smaller driver in these models may make the sound less powerful. Adding things like back boxes will make your speaker need more depth. A back box is a case you can buy for a speaker that keeps sound from leaking out.
WHAT DO YOU WANT TO DO WITH THE SPEAKERS?
People use ceiling speakers to listen to music and watch TV. If you want surround sound TV audio, place your ceiling speakers parallel to the TV and just behind the heads of the people watching (perhaps just behind a sofa). If you're not using your ceiling speakers as surround rears but still want to play TV audio, it's best to put them parallel to the TV so that the stereo separation between the left and right speakers matches what you see.
If you don't plan to use your ceiling speakers with a TV, you have a little more freedom about where to put them. In short, we would suggest keeping at least 2 meters between each part of a stereo pair and putting the speakers in the middle of central living spaces, like dining tables, sofas, or breakfast bars. Later in the guide, we'll talk about this in more depth.
BASIC FEATURES OF CEILING SPEAKERS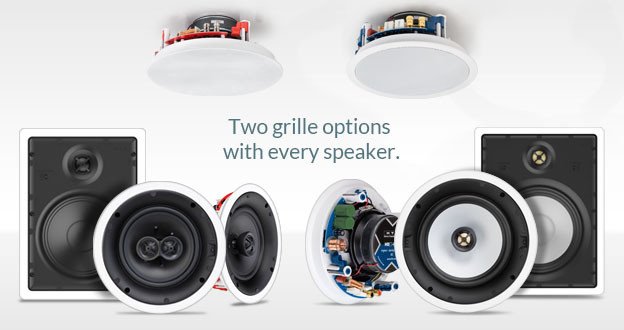 MEASURE CUT-OUT
This number is given in millimeters and is the exact diameter of the round hole you need to cut.
SPEAKER DIAMETER
The cut-out diameter is different from the speaker size, which is the diameter of the speaker's internal driver or drivers, if you're installing a single stereo speaker. The sound will have more bass and be louder if this diameter is bigger. Because of this, we recommend either a pair of 8-inch stereo speakers or four 6-inch or 6.5-inch stereo speakers for larger rooms.
MOUNTING DEPTH
This is the space you need in your ceiling cavity, which can be an important part of installing speakers in your ceiling. The number given is the depth needed behind the plasterboard on a finished ceiling. This can be measured from the surface of the speaker or from the ceiling itself, so make sure you know what the measurement means before you buy.
How do the ceiling speakers fit into the ceiling?
Although every ceiling speaker is unique, they come with everything you need to install them into the ceiling. Most ceiling speakers will clamp the plasterboard of the ceiling in between the main speaker and the speaker grille, allowing you to screw the speaker securely to the ceiling.
What if my ceiling speakers are built into a wall?
The same setup instructions for placing speakers in the ceiling apply when installing speakers in the wall cavities. In order to get the best sound quality from in-wall speakers when utilizing a TV, position them either on each side of the screen or parallel to it at the rear of the room.
What if I want to install ceiling speakers outdoors?
Make sure your speakers are IP66 rated or suited for "All Weather Conditions"(We customize the products according to your need) if you're doing this. To be sure the speaker cable you're using is appropriate for this usage, check with your electrician.