Your Leading Audio Manufacturer in China
As one of the premier audio manufacturers, MR AUDIO dedicates to offering excellent quality audio systems. We can provide a one-stop solution for your product development, from R&D to after-sales service.
√ Rigorous product control system
√ Advanced assembly line
√ Fast delivery of your orders
√ MOQ starts at 300pcs
Your Audio System Brand Customization Expert
Being a leading China audio manufacturers, we can support your urgent orders. Our capability to make customized audio systems will help you boom your brand. Please send us your ideal design now.
MR Audio

Your Best Audio Manufacturers in China
The 15-inch audio speaker has an enhanced car stereo that provides unmatched performance.
Pro and high definition wholesale sound audio has precise timer setting and volume.
The 12-inch top audio speaker is capable of producing excellent sound quality.
8 inch subwoofer speaker audio has a voice coil to stand against high temperatures.
DJ audio speaker that has polypropylene cone offers the great advantage of performance.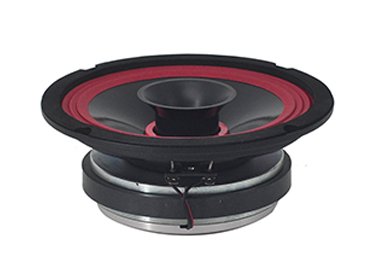 The customized audio speaker has compact and lightweight materials to meet the expected performance.
A high-quality audio system features versatile placement options and an immersive sound experience.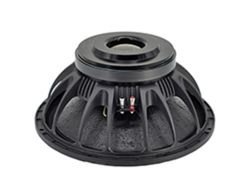 Professional car audio offers rigid, clear, and powerful sound.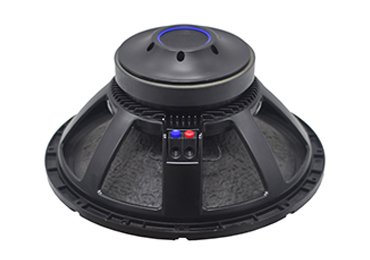 Get the best price sound audio at MR Audio compatible with any input connections.
Why Choose MR Audio Manufacturer
MR Audio is an expert audio manufacturer in China you can trust. With sixteen years of experience in the field, we can produce different types of audio system.
Our product ranging from 6 inches – 18 inches, is available in more than 2000 specifications. You can choose a model from our selection and configure it with your logo. We will 100% support your business needs.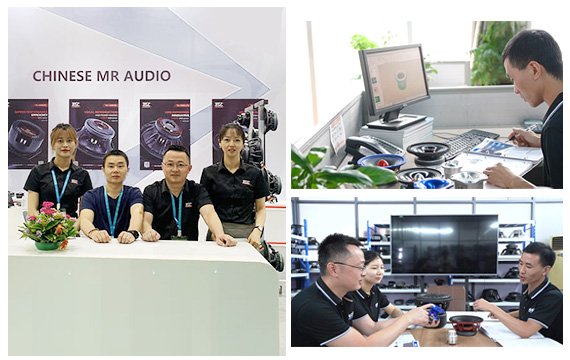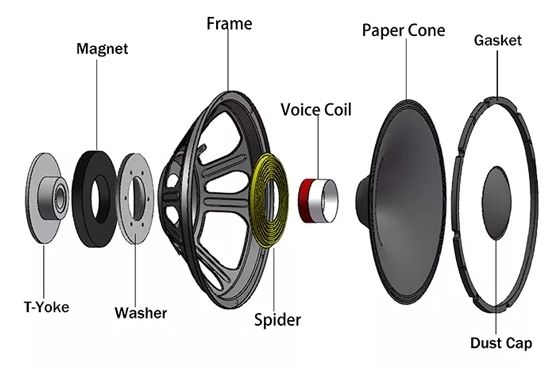 How do different cone materials affect the subwoofer's sound?
The sound-making principle of the loudspeaker is voice coil is connected to audio frequency signal hind can produce vibrate in a magnetic field, drive cone also produces vibrate at the same time, the fluctuation motion of cone drives air and sound, so the material of cone is very big to the effect of sound quality. At present, Subwoofer cone materials are mainly the following: Paper cone,PP cone,Metal cone, Fiberglass cone.
We can choose the cone material according to your preference for music type and usage environment.
What types of subwoofers are there?
The first kind, the active subwoofer, this kind of subwoofer is installed most convenient to the user, box body shape basically has square, cylindrical form and trapezoid.
The 2nd kind is the passive subwoofer, passive subwoofer needs alone result put to work,need the result put the ability of high power to work so.
Why Choose MR Audio
Workshop
Exhibition Display
Certificate Display
Recommend Product MR Audio Can Support You
MR Audio – Your One-Stop Audio Manufacturers In China
MR Audio is one of the experienced audio manufacturers and suppliers in China. We are proud to offer a series of audio speakers to meet every customer's needs. We have over 20 years of experience in OEM audio. Any audio system you need, MR Audio will provide you the excellent sound.
We have a leading speaker design team to make your audio speaker. Implementing a strict product control system, our staff will manage your product development. As a stable material supplier, we can offer you superior products.
With a completely automatic assembly line and advanced testing equipment, you can ensure a perfect audio system. Being top China audio manufacturers, we're able to produce 400,000 sets of audio products every year.
In addition, MR Audio can customize the audio design according to your exact requirements. We will provide you with product design and packaging design.
Our factory is in Ningbo, China, with more than 800 sq meter production workshop. You are welcome to visit our factory. We have a professional communication staff that provides multilingual service. They will accommodate you regardless of what country you are from.
We have several national patents. As 9000 certificated audio manufacturers, we can support your audio project needs. With a great understanding of market dynamics, we'll help you rocket your business revenue.
MR Audio is your one-stop-shop audio solution. We provide complete service, including warehousing, logistics, customs declaration, and customs clearance. Together with a mature sales system, we will do one-to-one support for your business.
Additional services offered are after-sale issues, business service, global support, and so on. We have 24 hours online system to support you.
For over 16 years, we focused on offering supreme quality audio products and perfect sound systems. We will cooperate and work with you to exceed your expectations.
Please send us your inquiries and get a better quote.