PD2165
21″SUBWOOFER
1500W RMS capacity
140mm(5.5 in) inside-outside GSV voice coil
30-800Hz response
99 dB sensitivity
8Ω nominal impedance
It has heavy, shocking, immersive bass, this subwoofer is perfect for all car owners who are pursuing sound quality, Due to its durability , we guarantee the quality, and it will stay as good as new even with regular use.
GENERAL SPECIFICATIONS
THIELE-SMALL PARAMETERS
EXTRA INFO
| | |
| --- | --- |
| Nominal Chassis Diameter | 21/550  in/mm |
| MAX Power | 3000 Watts |
| RMS Power | 1500 Watts |
| Impedance | 8 Ohm |
| Resonance(natural) Frequency | 37 Hz |
| Frequency Response | 32-1000 Hz |
| Sensitivity(1W/1m) | 96 dB |
| Voice Coil Diameter | 5.5″/140mm |
| Windling material | GSV(inside-outside) |
| Magnet | 309 Oz |
| | |
| --- | --- |
| FS Hz | 37 Hz |
| RE Ohms | 5.1 ohm |
| Qms | 11 |
| Qes | 0.32 |
| Qts | 0.31 |
| BL T/m | 31 T/m |
| MMS(grms) | 246 grams |
| Xmax(mm) | 14 mm |
| Sd(cm²) | 1225 cm² |
| Efficiency% | 2.10% |
| Le(1k Hz) | 2.8 mH |
| EBP | 115 Hz |
| | |
| --- | --- |
| Overall Diameter | 18/460 in/mm |
| Bolt Circle Diameter | 17.4/443 in/mm |
| Baffle Cutout Diameter | 16.5 /420 in/mm |
| Depth | 8.5 /215 in/mm |
| Net Weight | 24.5 kgs |
| Shipping Weight | 27 kgs |
| Shipping Box | 49.5X49.5X24.5cm |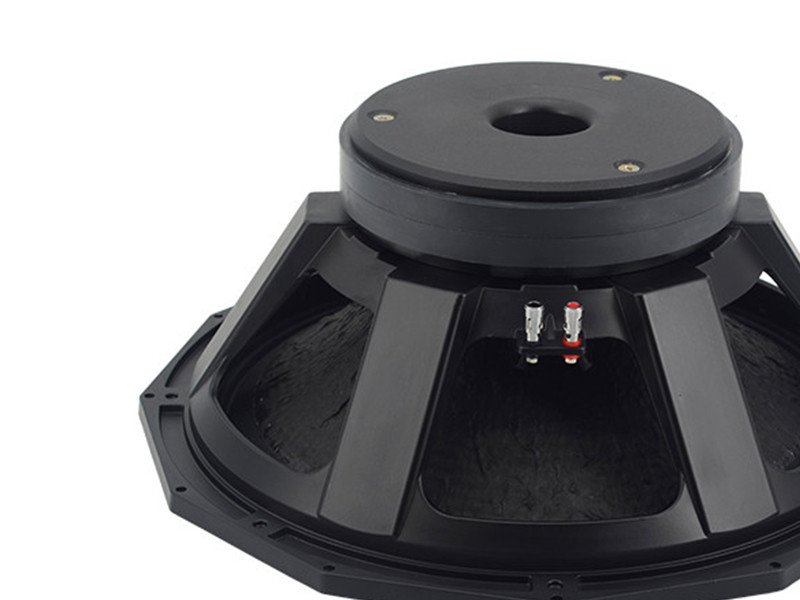 Highlights
5''ASV (Aluminum-magnesium alloy oxygen-free copper) voice coil wounded for hi-temp performance, 8 ohms
1,500 watts max power continuous program power rating makes high acoustical output
Classic and stylish design, a tasteful choice.
99 dB sensitivity, rarely in the similar class!
Excellent low frequency ability, high
fidelity response
The PD2165 usually use imported black paint corrugated paper cones. Using this paper cone can make the sound smooth, natural, bright and clear. The rigidity of this kind of paper cone is very good to reach the high transient response, shows more listening details obviously.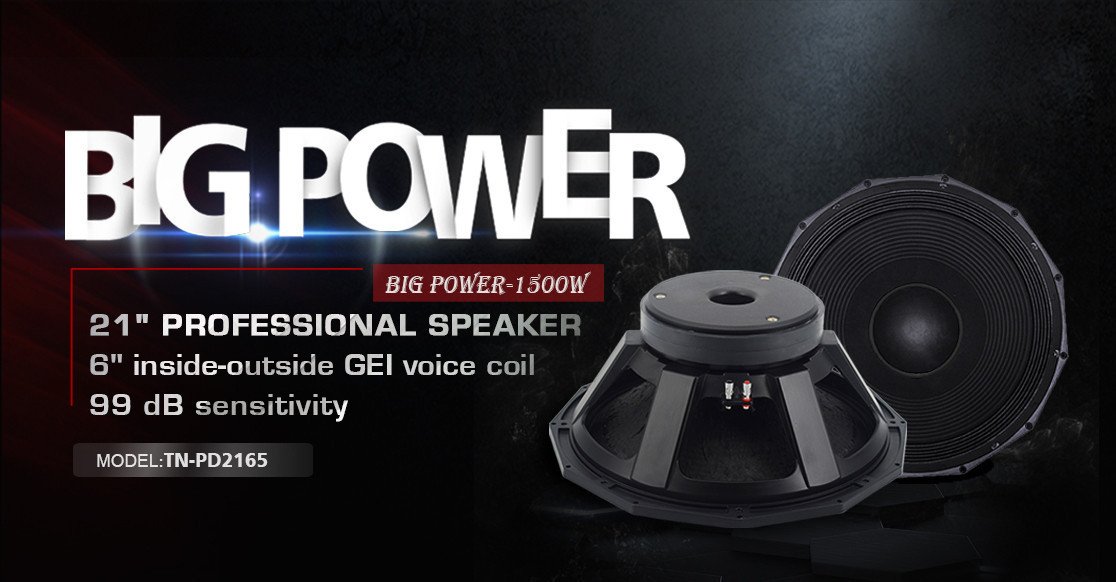 Two or three folded rings are always used on the edge of the paper cone, so when the power output is high, the edge of the connection between the paper cone and the basket is well reinforced, reducing the displacement of the paper cone, besides, making it not easy to break. The surface of the paper cone is also coated with a layer of damping glue, which enhances the toughness of the paper cone and also achieves the effect of waterproofing, in other words, it can be easily adapted outdoors.
MR Audio-Your Reliable 18″ Subwoofer Manufacturer in China
This product has been always on the shipping list for our customers in the Caribbean countries and has been repurchased.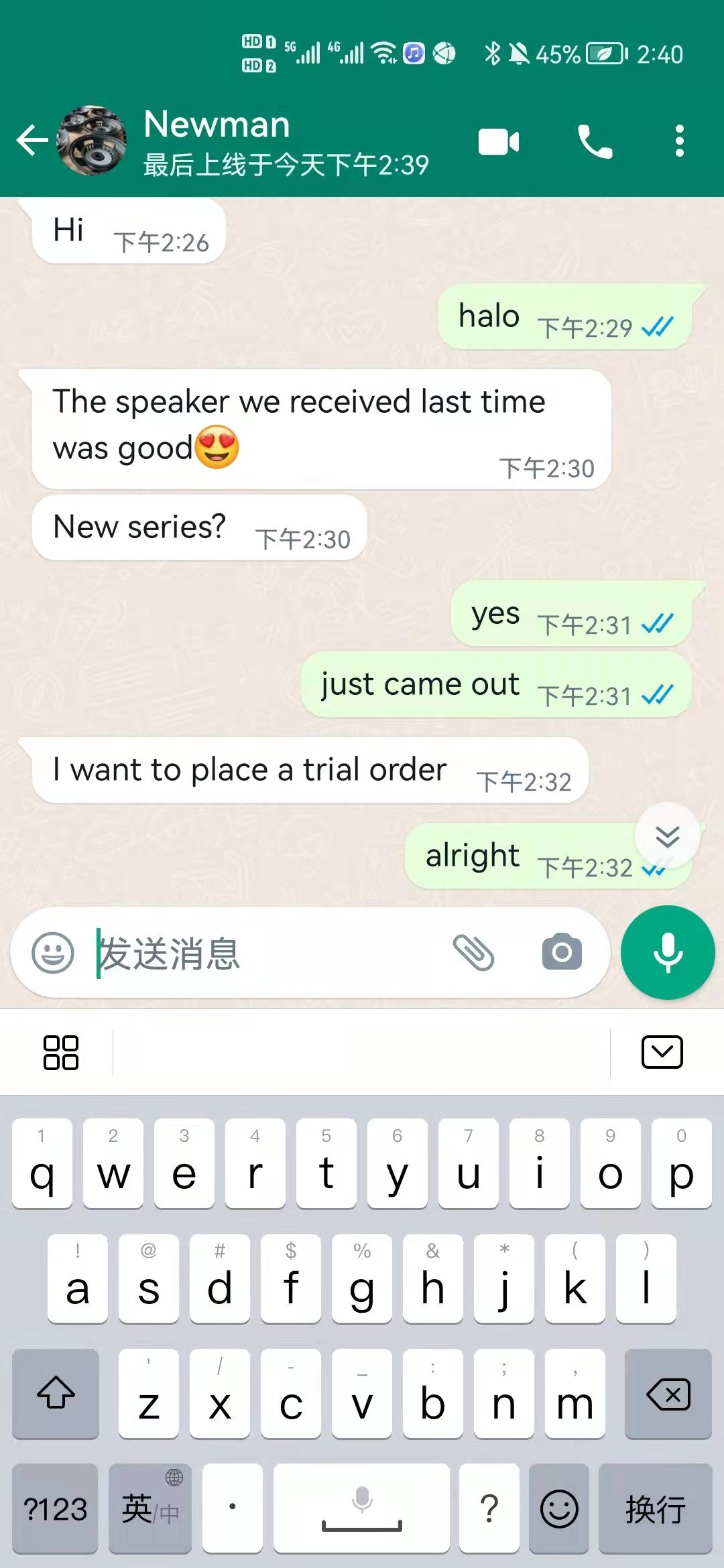 At the beginning, we just learned from our old friend Abdullah that although the previously exported speakers met their needs, but because of the different ways of use, no matter what speakers are used, their service life in the local area is far less than in other countries. It turns out that they have a car speaker competition agreement, that is, everyone gathers on the open flat ground, turns on the car speaker to the maximum, and the powerful sound waves will continue to impact the eardrums. Although this is not a traditional program, it is also a customary way to relax. After all, a speaker is an electrical appliance. No matter how good the quality is, it must be adjusted to local conditions. The high temperature and humidity environment and high-intensity work require us to make some changes.
Therefore, the engineer held another small meeting to summarize the current problems and areas that need to be improved:
Strengthen heat dissipation performance
Add waterproof function
Increase power as much as possible
We make the thickness of the magnet has increased by 10mm, in order to have a larger heat dissipation area, and in this way, the power has also been greatly improved. At the same time, the pole core sticks the heat sink and brushes the heat dissipation glue, two-pronged. We also applied the waterproof center heat-dissipating glue on the diaphragm to improve the waterproof performance.
It is worth mentioning that this product once won the first place in a speaker competition in Panama, not only because of its high power and stable output. More because it can still maintain its original performance in the hot and humid tropical rainforest summer.
This is inseparable from the dedication of every factory worker, who insists on strict quality inspection and updating of each product. Including our heat-dissipating glue, it needs to be hand-painted by old workers with more than ten years of experience, and no sloppy details can be cast in order to cast a perfect product.